Dean Stockwell began a relationship with actress Janice Rule, his co-star from the 1956 film, Gun for a Coward. The actress would soon end up playing a pivotal role in the future of Stockwell's career.

By the fall of 1957, Rule had begun rehearsing at the Westport County Playhouse in Connecticut for an off-Broadway play, The Minotaur, written by an author named Robert Thom; Thom later married Stockwell's first wife, actress Millie Perkins, in 1964. The Minotaur was produced by Lawrence Langner and Michael Myerberg, and opened at the theater on September 10.

Rule's participation in the play is one possible reason that Dean Stockwell's name came to Myerberg's attention. At a time when Myerberg found himself embroiled in the organizational nightmare that had become the preparations for his next Broadway play, it is amazing Myerberg would remember and bring Stockwell's name to the forefront.

Compulsion would turn out to be a pivotal point in Dean Stockwell's acting, and an influence on his personal life and his career for a long time. Until that point he could have easily slipped into any number of copycat James Dean/Montgomery Clift roles, but afterwards he managed to discover the talent and desire to carve out his own niche in acting. Compulsion would also become a logistical and legal nightmare on many different levels, one that would haunt nearly everyone else involved in the production for years to come.
---

"I consider Compulsion a very good work. It's one of those films in which, by some strange alchemy, everything is exactly what the director would have liked to be. Many times, for some different reasons, sauce won't curdle: some character appears untrue, the story doesn't work, or something else is out of tune. In Compulsion everything matched fantastically."

— Richard Fleisher, Richard Fleischer by Stéphane Bourgoin

---
By the summer of 1957, Dean Stockwell had successfully re-started his acting career. Along with appearances in Gun for a Coward and The Careless Years, he also landed some television roles in Front Row Center, Matinee Theatre (also known as Cameo Theatre), Schlitz Playhouse of Stars, The United States Steel Hour, Climax and Wagon Train. Then, in the fall of 1957, he had the opportunity to perform again on Broadway — something he hadn't done since his stint in 1944's Innocent Voyage.

The anticipated play was called Compulsion, and was based on Meyer Levin's semi-biographical novel originally titled Compulsion and Free Will. With the title shortened to Compulsion and the publication labeled as a "documentary novel," the book was finally published and released by Simon and Schuster in the fall of 1956.

The story centered on a real murder case in which Chicago residents Nathan Leopold, Jr., age 19, and Richard Loeb, age 18, chose a victim at random, then kidnapped and murdered him. The body of their 14-year-old victim, Bobby Franks (a distant cousin of Loeb's) was abandoned in a culvert, and the two young men continued with their plans to collect ransom money for Franks' kidnapping. Less than two weeks after the murder, the police tracked down and arrested the two boys, putting them on trial for kidnapping and murder with the hope of getting the death penalty. Famous lawyer Clarence Darrow defended his clients in a historic court case and saved them from a hanging death, winning each of them a sentance of life plus 99 years. Loeb never fulfilled his sentance (he was killed in prison in 1937), but Leopold went on to become a model prisoner and was released on parole in 1959.

Levin enjoyed the quick fame that came from the novel's release. He suddenly found himself as a celebrity and authority on the psychology of crime, contacted by radio and television stations interested in his viewpoint.

His success with Compulsion earned him respectable reviews and got the attention of Hollywood. In December, producer Darryl F. Zanuck of 20th-Century Fox purchased the screen rights for Compulsion, under the stipulation that Levin prepared a theater adaptation before December 1, 1957.

The deal gave Meyer Levin the liberty of choosing his own Broadway producer, and he wanted to wait for actor Orson Welles to take over the production. Despite the legendary actor's strong interest in the play, Welles' unstable financial situation could not handle the strain and Levin found himself rapidly approaching the December deadline. After Leigh Connell, Theodore Mann and Jose Quintero (the co-producers of Long Day's Journey into Night) rejected the play, he finally settled on producers Michael Myerberg and Leonard Gruenberg to handle the production.

Many actors came forward expressing an interest in the roles being offered, particularly the leading roles of Judd Steiner, a caricature of Nathan Leopold, and Artie Straus, Richard Loeb's fictional double. Early in the auditioning process, hundreds of hopefuls had to go through arduous cattle call auditions with the producers.

In the foreward of his published work, Compulsion: A Play, Levin explained his dismay at having no control over that element of the production. It had been suggested that it would have been a waste of time for him to be present for the preliminary casting interviews, and during the process he met one major candidate for a major role, and then only long enough to shake hands. The set designer had daily conferences with Alex Segal, the director, and Myerberg. Levin did not, and he began to get seriously worried about it.

Stockwell, unlike the actors who auditioned, simply got lucky — Segal called him from New York and asked him if he wanted the role of Judd Steiner. The Loeb-Leopold case fascinated the actor, and he agreed to do a reading for the producer, Michael Myerberg. He was afraid that he'd blown his chance, because he couldn't read a part very well (due, in part, to his haphazard studio schooling); instead, he felt it necessary to study and rehearse a role and to grow comfortable with it. Despite his skepticism the reading went favorably, and contracts were drawn up and ready for him to sign.

Stockwell enjoyed working with the other cast members of Compulsion and with his co-star Roddy McDowall, who was awarded the role of Artie Straus in August 1957. McDowall's performance demonstrated a deep understanding of the role. It also came at the height of his acting powers, and was arguably the greatest role he ever performed.
Trouble began with Compulsion early on, when Michael Myerberg and Meyer Levin engaged in a public argument through the press. They soon took one another to court over the script. Levin resented the fact that the producers had brought in another writer, Robert Thom, to revamp the script and make it more stage-friendly; in doing so, they also took away Levin's creative input on the project. The newspapers reported the dispute between Levin and Myerberg on a daily basis. Levin sued the producer over the loss of creative control and sued Thom for libel and lost wages; both Myerberg and Thom then counter-sued Levin.
With his parole imminent, Nathan Leopold also began to sue over the use of his name — he ended up suing Levin, Myerberg, 20th-Century Fox and even the movie theaters that eventually showed the film. To top it off, another play dealing with the Leopold-Loeb trial, Counsel for the Defense, was being prepared by producer Jay Julien and writer William Marchant; luckily, this rival production never got past the planning stages.
Meanwhile, the actors in Compulsion began the arduous task of performing. The stress of taking on the character, not to mention the shift into theater performing and his move to New York, affected Stockwell considerably. Although he relished the role, the depressing subject matter became a difficult experience to live through night after night.
Bad luck hit the production just after rehearsals began, when Stockwell became one of the thousands of people in the United States affected by the Asian flu epidemic.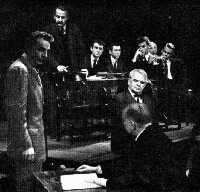 His illness cancelled one of the preview shows but he was well enough to appear at the opening night performance; his stand-in, D.J. Sullivan, took over the role in a few preview performances and a couple of times during the play's run. Due to the strain from his demanding role as Jonathan Wilk (a shadow of real-life lawyer Clarence Darrow), actor Frank Conroy suffered a heart attack and had to be rushed to the hospital. The newspapers mistakenly announced his attack as the flu but corrected themselves on the following day. Conroy's stand in, a young man named Michael Constantine, stood in as the famous lawyer and performed admirably in the role. Stockwell's illness, Conroy's heart attack and the legal disputes delayed the opening of the play for three days, from Monday to Thursday, October 24.
The critical reviews on Compulsion were printed the following day, and their opinions on the drama varied widely. The script and the length of the play were criticized harshly, but Stockwell and McDowall received high praise for their portrayals. Walter Kerr of the Herald Tribune claimed in his First Night Report that "there are scenes that catch hold in their first few moments and seem to explore every nuance of disturbed and disturbing minds. Dean Stockwell, for instance, draws his mouth taut, freezes his shoulders, and — in gasp after effortful gasp — wrings from himself the truth of his relationship to a 'master' he has chosen to serve. The gringind arrival at self-knowledge is chillingly drawn."
"Roddy McDowall and Dean Stockwell play the two boys brilliantly, Mr. McDowall gay, antic and arrogant; Mr. Stockwell, crushed, weak, gloomy," remarked Brooks Atkinson of the New York Times.

Frank Aston of the New York World-Telegram and The Sun printed one of the most praising critiques of the two actors in his article, Murder Trial Is Strong Tonic: "And here's one spectator to report that at the finish he felt tired. The truly exhausted ones, however, must have been Roddy McDowall and Dean Stockwell who played the killers. What a beating they took. Their every moment went full tilt. They did so well so often that it was difficult to choose high spots. Mr. Stockwell probably reached his peak of agony in confessing his unnatural passion and Mr. McDowall reached his in a heart-tearing jail scene with his mother when he sobbed, 'I want my teddy bear.' They're magnificent, these lads."
Stockwell, however wonderful his performances, had trouble adjusting to the theater lifestyle. The exhausting role kept him on stage for almost the entire run of the play, and he needed a lot of rest to prepare for it. Roddy McDowall also felt the strain of it, and reportedly lost thirty pounds due to the high energy level demanded of his character. McDowall also strained a ligament in his chest in December 1957 during a performance, and had to leave the play for a week.
Along with the physical and emotional backlash of such an intense performance, Stockwell also had to contend with living in an unpleasant environment — New York City. He despised everything from his one-room apaprtment to the weather, the lack of fresh air, and the claustrophobic, vertical feel of being surrounded by skyscrapers. Every Monday, his day off from Compulsion, he would drive to Connecticut or upstate New York to visit the country, and return a little refreshed to resume his dark role of Judd Steiner.
In his spare time he attended classical music and jazz concerts, music which he had a great passion for at the time. Afterwards he would visit a restaurant called Downey's on Eighth Avenue, where a number of young adults in show business hung out, for some food and conversation. His sweet tooth still lingered from childhood, and he loved banana cream pie and chocolate pudding, along with milkshakes and cheeseburgers.
At one point, there had been plans to move the production to Chicago and to England. The play skipped Chicago, Leopold's hometown, due to its controversial subject matter, and the overseas production did not hit the stage for several years. The production ran its course at the Ambassador and closed on February 22, 1958.
He still managed to make heads turn, in particular for an incident at the Actor's Studio in New York City. While working on Compulsion, he attended a class at the famed acting school conducted by Lee Strasberg, only to walk out in horror of what was being taught after only fifteen minutes. Unlike the actors who gravitated towards the Stanislavsky method, Stockwell had no structured formula and considered acting to be a very personal process. While on the West Coast, he joined Jeff Corey's acting class for a few weeks but disliked the improvisational exercises being taught. Incidentally, actress Diane Varsi, his future co-star in the film Compulsion, had been discovered at Corey's school and put into her first role for Peyton Place. Varsi only performed in a handful of films before leaving Hollywood behind, dissatisfied with that type of lifestyle.
Between the end of the play and the start of the film, Stockwell appeared on G.E. Theatre in an episode called "God Is My Judge," which starred Nina Foch and Gary Merrill. His next television appearances wouldn't take place until October, when he wrapped himself up once again in the role of Judd Steiner.
Darryl F. Zanuck of 20th Century-Fox assigned the picture to his son, Richard "Dickie" Zanuck as the young man's first production effort. Richard Zanuck and other second-generation young writers and producers in Hollywood had been called "The Sons of the Pioneers" because their fathers became legends in the motion picture business. The younger Zanuck didn't hesitate to use that edge and pool the best talent available for his film.
In his autobiography, Just Tell Me When to Cry, Richard Fleisher wrote that while he only had what he described as "a nodding acquaintance" with Zanuck, his sterling reputation at 20th-Century Fox preceeded him and he was offered the screenplay. He loved the script, and after learning that Orson Welles had already been cast as Darrow, the director wanted to do the film more than anything.
In an effort to avoid the insane tangle of lawsuits that had endangered the play, the cast and crew of 20th Century-Fox reportedly had to use the names "Artie" and "Judd" as opposed to Leopold and Loeb, even in private. The legal department of the studio reportedly ordered anyone who was interviewed about the film to deny any connection to the Leopold-Loeb case.
Bradford Dillman's introduction to Dean Stockwell proved to be both surprising and a bit unnerving for the actor. The two had never encountered one another until the day of their first scene together — the "falling-out of thieves" scene, as Dillman described it, in which the characters are angry with each other during an interview with the District Attorney. A nervous Dillman knew that his co-star would have preferred Roddy McDowall to be in the production with him. No one ever said why Stockwell made the cut for the motion picture and McDowall did not. For his part, Dillman (under contract at 20th-Century Fox at the time) was simply owed a picture to fulfill his yearly obligation, and his number came up with Compulsion. The two were introduced, and Stockwell shook Dillman's hand in a perfucntory manner, then walked off. Dillman found his co-star's aloof behavior a bit disconcerting, but it soon turned even more bizarre. As they prepared to begin shooing, Stockwell turned to him and went into what Dillman later described as "the longest litany of villification that you could possibly imagine." The director called for action, by which time both men were angry with one another. Finally at the end of the scene, with a baffled Dillman wondering why his co-star took things so personally, Stockwell walked up to him and apologized. He explained his behavior by saying that he needed to "stoke his fires," or to get mad in preparation for the scene. A relieved Dillman accepted the apology, and the two worked well together for the remainder of the production.
The youngsters, Dillman and Stockwell, behaved themselves on the set, but Richard Fleischer had a control issue to deal with concerning the seasoned Orson Welles, who tried to challenge Fleischer's directing duties at every turn. Complicating things, Welles could only spend a certain amount of time in the United States each year due to income tax problems. He drove up from Mexico on the first day to shoot his scenes, and booked passage on a freighter to China on the same night of his last day of work.
On that final evening, the entire company gathered in the lobby of the studio's Main Theater to give Welles a send-off party — or, as far as Stockwell's opinions went, a "good riddance" celebration. Throughout the production he spent no time with Welles, and found him to be almost sadistic in his bad behavior towards other people.
The word "sadistic" definitely applied to Welles, in particular when he got in one last jab at endangering the completion of the film. Due to his ever-present tax problems, Welles fled to Mexico and never completed the voice-over for the crucial courtroom summation scene. The resourceful sound editor pieced together the final thirty seconds of Welles' speech from words, phrases and sounds he made during the filming; he even used dialogue and sounds from other movies.
Despite their conflicts, Fleischer and Welles worked together again on Fleisher's next picture, Crack in the Mirror, shot at the Studios Boulogne in Paris. One Saturday night, after a few drinks, Welles approached Fleischer. He insinuated that his outstanding performance made the director and the entire film look good. Fleischer calmly countered that he had never been as proud of a picture as he was of Compulsion, and that not even Welles could spoil it for him.
He later said, "Making this film I felt very creative: it was an excellent period for me. I had a lot of ideas, about everything: images, stories, characters' psychologies. The film was the result of a wonderful combination between my technique, my ideas and all other elements, like the sublime photography of Bill Mellor. Making it was so simple I nearly felt guilty: I even finished it four days before what was expected."
Although the critics praised Stockwell's film performance, the actor found himself dissatisfied with the film and upset at the way the movie had been handled. He felt that he had done the best that he could, and revealed that because of the deletions and changes made for the film, he considered backing out of the production altogether. Because of the self-censorship going on (the MPAA ratings system had not yet been invented), the film's topics of violence and homosexuality had to be diluted from the stronger play version.
Nevertheless, the role did earn Stockwell his first award at Cannes Film Festival.
A year later, another production of Compulsion was staged in England. The cast list included English actors John Beran, Ken Bright, Donald Christopher, Yolanda Delgado, James Eckhouse, Richard Fitch, Richard Hayes, Mickey Zale Heller and Bill Hurlbut. Like its predecessor, though, it did not receive the gushing reviews and public appreciation needed to keep a play going.
The most recent reincarnation of the sordid tale took place with the presentation of the Fine Line Features production of Swoon, starring Daniel Schlachet, Craig Chester, Addison Cook, Adina Porter, and Alex Vean. Unlike Hitchcock's Rope and Fleisher's Compulsion, however, Swoon played up the topic of homosexuality — in particular, the sexual domination of the Loeb/Straus character over Leopold/Steiner. The film received the Caligari Award at the Berlin Film Festival, and also received the 1992 Sundance Film Festival award for excellence in cinematography.
And Dean Stockwell's career moved on.